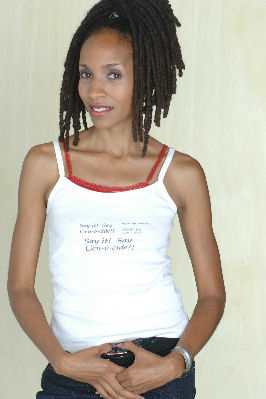 Kobina Wright
About the author
Kobina Wright is many things, including the creator of the Hodaoa-Anibo language, but a by-stander, she is not! Whether you see her as a genius or something else, her work is sure to leave an impression on you.
Wright is a second generation Southern California native and attended the University of Georgia for two years before transferring to California State University, Fullerton, where she earned her BA in journalism, minoring in Afro-Ethnic Studies.
Performing on stage since the age of 5, Wright took to the arts of acting, singing and dancing early in her childhood and by the time she reached her mid-teens, she began taking her painting seriously. A portion of her painting titled "Dissonance" can be found on the cover of the first printing of second book titled "Growth Spurt." In her teens Wright also began studying choreography and in her third year of high school, co-founded the dance group "Ten Rows of Beans." Also in this year, with the help of her mother, Ernesta Wright, published her first book, a volume of poetry titled "Oh Yeah!" to help offset the cost of college expenses.
While attending the University of Georgia, Wright joined and performed with the dance group Pamoja. In Georgia, she had the opportunity to study modern dance and four years later, while attending California State University, Fullerton, founded the Likizo Dance Troupe, which performed for two years throughout Southern California, from Hollywood to San Diego. After graduating from CSUF, Wright published her second volume of poetry, " Growth Spurt" and worked as an assistant editor at Entrepreneur Press.
Pursuing her passion for acting, Wright attended the Gloria Gifford Conservatory for the Performing Arts for two years where she discovered that her training in acting made her a better writer. At the GGC, Wright performed scenes from plays such as "Laundry and Bourbon;" "The Dreamer Examines His Pillow;" "Cheaters;" and "Savage in Limbo." She also directed a reading of scenes from her screenplay titled, "Snapped Back." Her experience at the GGC was instrumental in preparing her for her roles in movies such as "Sunday Morning Stripper;" "Messed in the Head;" and her notable performance in the horror film, "Dark Town." Other stage productions include "Soon As I Get Home;" "The Storm is Over;" "Teachers are Human Too;" and "The Little Red Hen."
Wright has written for publications such as LACMA Magazine, The Daily Titan, and CYH Magazine. In 2004 she wrote her third volume of poetry titled, "Say It! Say Gen-o-cide!!" dedicated to the Rwandan Genocide of 1994. In 2003 Wright created the Hodaoa-Anibo language and in 2004 published the first edition Hodaoa-Anibo Dictionary.
"I've been told so many times to just pick one or two things and concentrate on being good at that, but I've started out with one" then two" then three " then four" now how can I go back to one? In my world, I get to do everything, or almost everything I want to do. It may slow my pace of progress a little, but it lays a good foundation for inspiration in all my artistic interests." Kobina says.
About the book
There are so many single mothers around making
the same dating mistakes over and over and over
again. So why are there no warning signs? Your
children may not come with a handbook, but a single
mother sure would benefit from some tried and true
guidelines.
Raise the Red Teddy explores the some
of the pitfalls of dating that non-mothers don't have
to take into account. It's a whole different world to
consider from when you should allow your children to
meet Mommy's new "friend" to dealing with their
rejection of your new beau.
More about Kobina Wright:
www.dramaticpause.net